en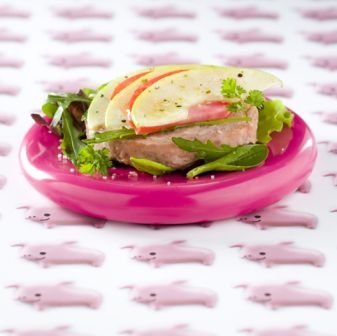 Ingredients
1 tin of Hénaff Pâté 260 g
1 bag of mixed salad
2 tomatoes
2 conference pears or 2 tart apples, i.e. Granny Smith
Vinaigrette made with peanut or grape seed oil
Salt and ground pepper
Preparation
Cut the tomatoes and fruits into quarters (apples or pears).
Take the pâté out of its tin and cut horizontally into four pieces so as to obtain a nice round slice for each plate.
Surround the slice of pâté with a few salad leaves and season with the vinaigrette.
Arrange the quarters of fruit and tomatoes over the salad. Serve.