en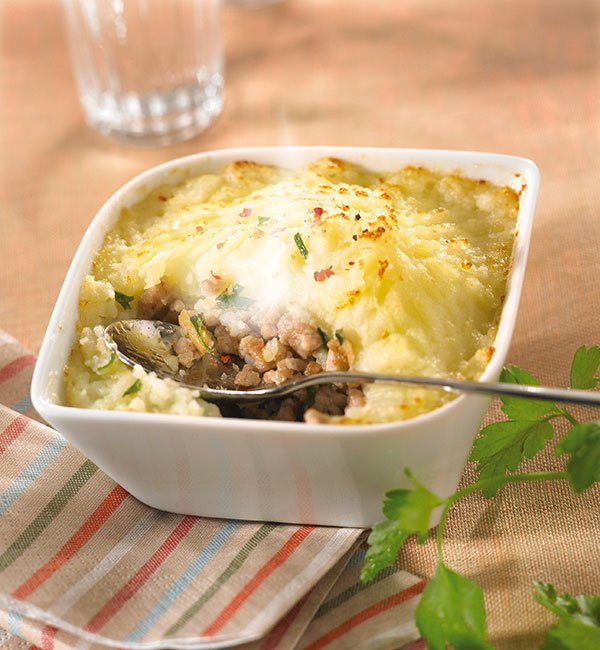 Country shepherd's pie
Ingredients
1 tin of Hénaff Pâté 260g
200g of sausage meat stuffing
200g of minced veal
3 finely chopped onions
6 cloves of finely minced garlic, with the shoots removed
1 large bunch of chopped parsley
Fresh potatoes or dried potato flakes
1 to 1 litre ½ litres of milk
Oil and lightly salted butter
Salt and pepper
Preparation
Cook the onions and garlic gently over a low heat for 2 to 3 minutes until soft.
Add the raw sausage meat and veal and brown them over a medium heat for 3 to 5 minutes.
Season and add the cubed Hénaff Pâté.
Cover and leave to simmer for 30 minutes before adding the chopped parsley.
Continue cooking for another 10 to 15 minutes.
Make some mashed potatoes (using fresh or dried potatoes).
In a greased gratin dish, arrange a layer of mashed potato, the cooked meats followed by another layer of mashed potato.
Score the surface of the potato with a fork and sprinkle with breadcrumbs.
Add a few knobs of butter on top before placing in a hot oven (180°C) until the potatoes are nicely golden brown.
Serve straight away with a Batavia and walnut salad.